True 1080p HD Action Camera with Wi-Fi, GPS
1080p HD video recording with 16 megapixel CMOS image processor
1.4" Chroma display
High-sensitivity GPS, accelerometer and barometric altimeter
Rechargeable lithium-ion battery (record up to 3 hours at 1080p)
Rugged, durable, waterproof (IPX7¹) with an aerodynamic design


High Definition Recording
VIRB records true HD 1080p video that lets you relive every minute of your adventure in full, high-contrast, undistorted detail. Adjust resolution and filming speed for crisp, dramatic slow motion up to 120fps. And it's all seen through our WideVü lens and processed through 16 megapixel CMOS sensor for the highest quality video, even before you start editing it. Set multiple HD video modes: 1080p@30fps, 960p@48fps, 720p@30/60fps, 848x480@120fps.
1.4" Chroma Display
Why mash a button and hope you got the shot when you can set-up, preview and playback video on a built-in, full-color Chroma display? The 1.4" display on VIRB Elite is also your window into the menu settings. Check your shot before you leap, choose slow motion, or even switch between video and still photography. It's always on the screen, and the screen is always on (but uses minimal power).
Long-life Battery
VIRB Elite features a class-leading 2000 mAh lithium-ion battery that tested up to 3 hours recording at 1080p. Which means there's a good chance you'll tire out before the battery does. And with multiple charging options (sold separately) you'll have plenty of juice. Extend your filming time by carrying a replacement battery (sold separately) on your all-day adventure.
GPS and Wi-Fi
VIRB Elite has high-sensitivity GPS for data stamping and GPS-based "smart" recording profiles such as Skiing Mode, which automatically records your downhill runs and stops recording while you're getting hot cocoa or waiting in the lift line.
It's also equipped with Wi-Fi for wireless communication to your smartphone or computer. So you can see the image preview, adjust camera settings, and record and stop the camera or remotely snap still photos, even while the camera is filming.
ANT+ and External Sensors
VIRB uses ANT+™ wireless connectivity so you can use a compatible Garmin device, such as fēnix, Oregon and Edge, as remote controls. And because it has Wi-Fi, you can stop and start recording or take still images wirelessly with your smart phone or compatible Garmin device so you don't have to take your hands off the handlebars or remove the camera from the mount for that perfect shot.
ANT+ also works with our external sensors. Pair VIRB Elite with our tempe (wireless temperature sensor), speed/cadence bike sensor or premium heart rate monitor to include revealing information in your videos. Show how fast your heart was racing on your last bike race or while peering over the edge of the Grand Canyon. VIRB Elite also has a built-in accelerometer and altimeter for data stamping and custom filming profiles.
Sleek and Easy-to-use
VIRB Elite was engineered for easy operation with a large, instant record slider switch on the side of the camera. The slide and click of the switch makes it easy to know that you are recording, even if you're wearing gloves. The overall design of the camera is both sleek and rugged which helps you integrate VIRB Elite into your activity without having to work around a bulky camera body. So go ahead and ski, zip-line or bobsled, knowing you got the shot.
Digital Stabilization
With the Digital Stabilization feature engaged, VIRB Elite adds a little stability to bumpy rides and adventures so you can share a smoother video with your friends. Plus Lens Distortion Correction (LDC) works to enhance the quality of your video, even before you start editing.
High Definition Photography
VIRB Elite is a high-powered digital photo camera too. With 16 megapixel photo capture LDC to make your photos sharper, clearer and less distorted. Shoot 16 megapixel, 12 megapixel or 8 megapixel as a single shot (on-camera button or controlled remotely) or choose Photo Burst or Time Lapse at various intevals. And it's all processed through a 16 megapixel CMOS processor for high quality images.
Video and Photographs at the Same Time
Don't lose a moment of video just to capture a photograph. VIRB Elite lets you take still photos at the same time you are recording video with just a touch of the button on either your remote Garmin device or on the camera itself.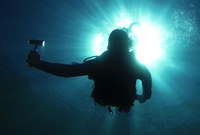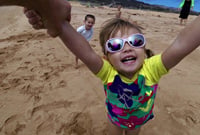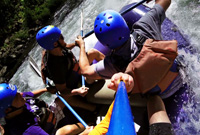 Editing Made Easy
VIRB Edit is free desktop editing software that you can download to your computer for intuitive, robust video editing that takes advantage of VIRB Elite's compatibility with external and built-in sensors and other Garmin devices. Include your speed and heart rate on your motorcycle video, or accelerometer and altitude on your sky dive video. Once you have the video you want to share, upload it for all your friends to see.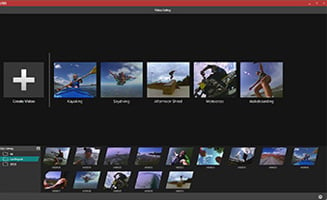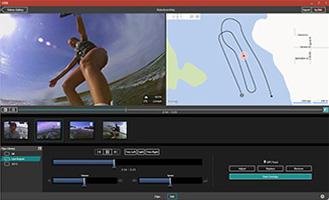 Mounts
A variety of mounts let you firmly lock the camera in position, virtually anywhere. From curved, flat deck and dash mounts to handlebar, helmet, shoulder and multi-use strap mounts, our mounts have you covered. Mounts have interlocking joints that grip in place instead of relying solely on tension for a more durable, anti-vibration locking performance. We even have an adapter to use VIRB Elite with other industry mounts.